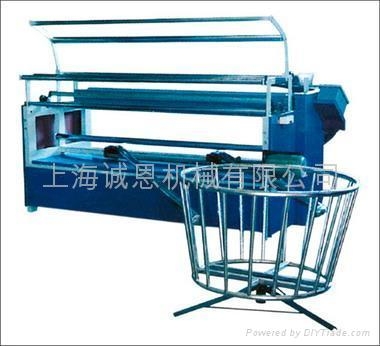 Name Cutting/Curling Machine
Product Description
Cutting/Curling Machine
1. Application: Cutting and curling. Feeding straight-line fabric into cutting and curling machine, the fabric will become twill. Then get through strapping process for specific size.
2. Specification:
(1) Speed: 62.5---625r/min
(2) Width: <1600mm
(3) Processing thickness: <100mm
(4) Power: 1.1KW
(5) Dimension: 2400x110mm

Manual strip cutting machine
Specifications:
Width: 1700mm-2400mm;
Rotating Speed of Cloth Roll: 0~800rpm;
Diameter of Cloth Roll: Ø 36mm;
Power: 1.5KW.
Minimum Width of Cut Strap: 2mm;
Voltage: 380V/220V;
Machine Measurement: 2700 x 750 x 1400mm.
Functions:
Manual cutting machine, straight strap and 45-degree diagonal straps machine suitable for cloth, adhesive-bonded fabric, tent, umbrella, sponge foam, leather, reflective material, plastic, paper, two-side glue, acetate fabric, reinforced belt, conductive cloth, copper, foil and other materials of various width straight. The idea choice of industries of clothing, bags, footwear, hats, garment subsidiary material, reflective material factory, tent factory, umbrella factory, transformer factory, electron factory and other industries.
Manual vertical strap, 45-degree diagonal strip cutting machine includes a manual cloth cutting machine, a 45-degree vertical diagonal cloth rolling machine, a knife grinding machine
(1) Spindle power (cloth) using CVT system, may do high and low adjusting speed and positive & negative switching control, blades without speed. Cutting speed matching fabrics to achieve the best quality.
(2)Use of ruler sign system to control cutting width.
.
Rolling and Crtting Machine for Plastic and Rubber

Product Description
Rolling and Crtting Machine for Plastic and Rubber
Mode HP-1
UES:
The machine is mainly suitable for cutting cases, boxes, clothing, sportshoes, etc
Cutting rate: 62.5rpm - 625rpm
Cutting board: ≤ 1600mm
Cutting thickness: ≤ 100mm
Engine Power: 2.2Kw
Size of the machine: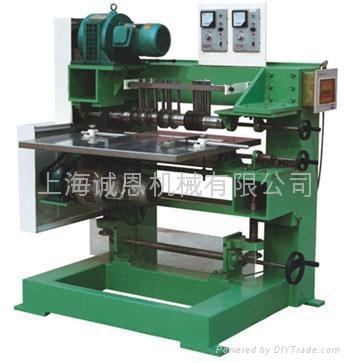 USE AND CHARACTERISTICS:
The machine is used for air conditioner and car, Isolating heat and noise, material(PE. PU. OR. LC ect) realize the cutting overall and hull.
Parameter:
| | |
| --- | --- |
| Model number | HP-2 |
| Cutting width | < 550mm |
| Cutting high | < 15mm |
| The speed of circle knife cutting | 125rpm-1250rpm |
| The speed of rubber rolling | 5rpm-5Orpm |
| Engine power | 1.5kw 0.55kw |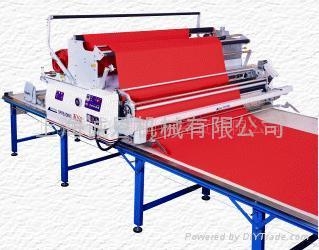 AUTOMATIC SPREADING MACHINE

Product Description
KS1 FOR KNITTED AND WOVEN FABRIC.
Features
Cloth end auto-stop and return starting place.
5 Minutes power auto-shut off.
When emergency stop, laid cloth won't be pulled.
Standard Equipment
*Expander. *Bucket type servo unwinding.
*Set bar. *Emergency stop.
*Auto-lifting. *Adjustable cutter head ravel length.
*Counter. *Edge control.
*Auto-cutter. *Rewinding(cloth roll)
*One side quick lock movable catcher. *Fixed catcher for face to face.
Optional
Tubular attachment.
Specifications Model KS1-190 KS1-210
Maximum cloth width 1900m/m 75" 2100m/m 83"
Tablewidth 2130m/m 84" 2330m/m 92"
Machine weight 290kgs 305kgs
Power 1P/220V 1KW
Weight of cloth roll 80kgs max
Diameter of cloth roll 450mm max
Travel speed 86m/min max
Lay height 220mm . 300mm(KS1-H)
150mm . 230mm(KS1-H)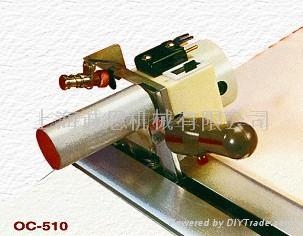 END CUTTER
Name End Cutter Product Description Application Suitable for cutting all kinds of materials. Advantage Easy to operation for cutting in safe and Beautiful outward appearance. Stronger horsepower to effectively shear the cloth and leather into desired thickness. . Even and accurate cutting to save material and time. Automatic counting and sharpening device. Cutting range from 36" to 108" is are available. OC-510L:Longer operation rod OC-510: standard short operation rod The table is optional for customers . Specification Model Power Supply Heat Power N.W/G.W Packing Volume OC-510 1P/220V 120W 17/18Kg 750*420*250mm OC-510L 1P/220V 120W 17/18Kg 750*420*250mm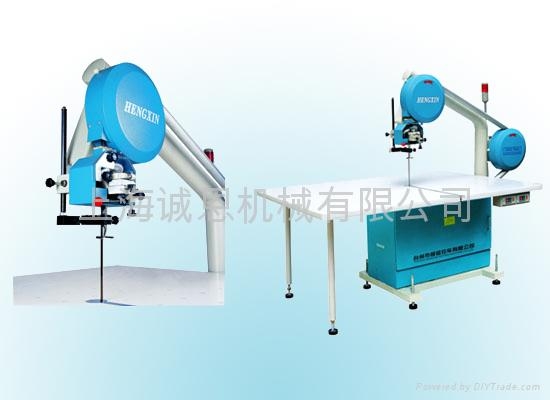 BAND KNIFE MACHINE
This band knife cutting machine is the latest design with much lighter and equipped with frequency control. With the air cushion type, it offers flexibility in movement during the cutting.
| | | | | | | |
| --- | --- | --- | --- | --- | --- | --- |
| Model | Table Size | Cutting Height | Knife Span | Knife Size | Voltage | Weight |
| SB-1600 | 1200x1600mm | 180mm | 700mm | 0.45x10x3500mm | 380V50Hz | 265kg |
| | | | | | | |
| --- | --- | --- | --- | --- | --- | --- |
| Model | Table Size | Cutting Height | Knife Span | Knife Size | Voltage | Weight |
| SB-1800 | 1500x1800mm | 180mm | 900mm | 0.45x10x3860mm | 380V50Hz | 285kg |
| | | | | | | |
| --- | --- | --- | --- | --- | --- | --- |
| Model | Table Size | Cutting Height | Knife Span | Knife Size | Voltage | Weight |
| SB-2400 | 1500x2400mm | 180mm | 1200mm | 0.45x10x4450mm | 380V50Hz | 300kg |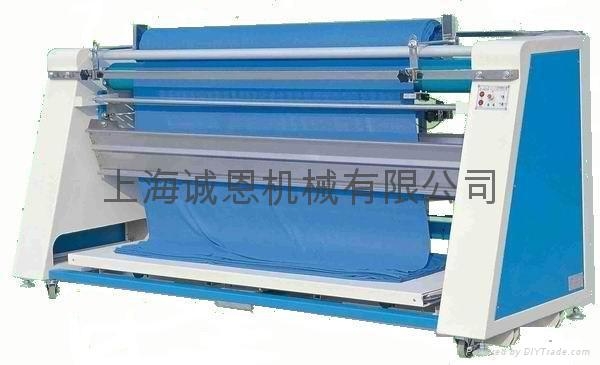 MATERIAL RELAXING MACHINE

Product Description
FEATURES
Extra width for wide fabric material, suitable for any fabric material under 82" width.
The speed of the roller and the rocker have been adjusted and is controlled by control box.
Inverse rolling direction for rolling back the problematic fabric material
With movable wheel for moving easily.
Specifications Model
Size 242*70*120cm
Net weight 80kgs
Power single phase〓220v
Fabric diameter 50cm
Fabric weight 80kgs
Relaxing speed 100yards/min
Relaxing Width 82"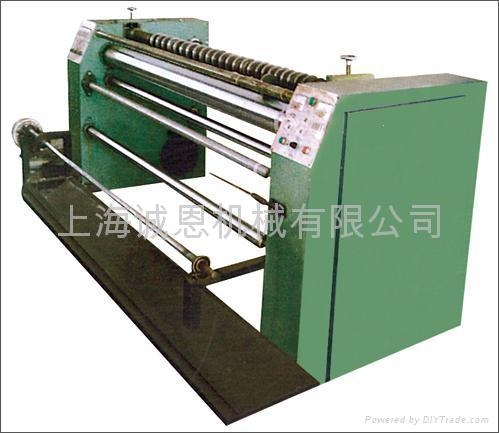 MULTI-KNIFE SLITTING MACHINE


USE AND CHARACTERISTICS:
1. This machine is suitable for slitting of materials such as cloth, non drying glue,leathers, pla-stic ,etc and the width of the slitting materials can be set in a random manner.
2. Multi knife and full width slitting is performed simultaneously at the same time,facilitating rapid speed and high working efficiency, which is suitable for batch operations, pla-stic contracting processing in large packaging box
manufacturing plant.
3. The cloth feeding shaft adopts electromagnetic tension device, which is safe and reliable.
Parameter:
| | |
| --- | --- |
| Model number | HP-3 |
| Cutting width | < 1800mm |
| Cutting high | < 110mm |
| Rolling speed of coiled materials | 125rpm-1250rpm |
| Engine power | 1.5kw 0.75kw |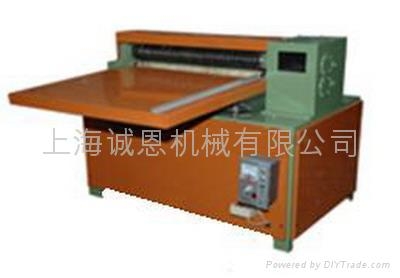 MULTI-BLADE CUTTING MACHINE
It is applicble to the cutting of various width belts in such industries as garment, shoes-making, leather, handbag,rubberized fabric and paper.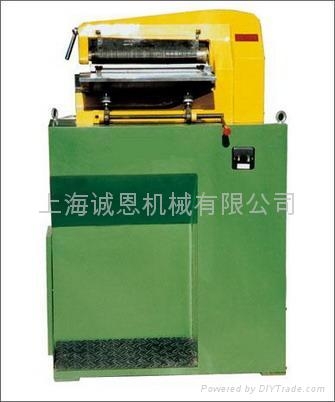 XCTL2 Stripping Machine

specifications︰
Main Technical data
Stripping speed:15-30m/min
Motor power: 0.55kw
Stripping width: 3-300mm
Stripping thickiness < 8mm
Overall dimension: 900*600*1240mm
Whole weight : 200kg
Advantages︰

Use: As the best equipment in leather product garment industry it is used to cut leatehr rubber ,synthentc materials prper into stips
1, The structure is reasonable, the design is advanced, the automaticity is high, the ease of operation, cuts the strip to be accurate, the efficiency is high, receives the volume automatically, puts automatically curls 2, To use the special steeliness bit, the life is long, the margin neat, artistic 3, The machine have correct an error to install automatically, guaranteed that material cutting out quality
4, By the engine case, the feeding work table, the rack, the cutter, the feed mechanism and so on is composed.
5, Is suitable in cutting out each kind of rubber, the silica gel, the leather, the paper, the cloth and so on to be nonmetallic.
Major technique parameter:
1. Cutting width: 5 -1000mm
2. Cutting thickness: 1 -10mm
3. Biggest cutting out material diameter 600mm
4. Shear velocity: Steeples adjustable
5. Electrical machinery power: 500kw 220V 50Hz
6. External dimensions: 950mm × 1400mm × 6500mm
7. Heavy Quantity: 680kg