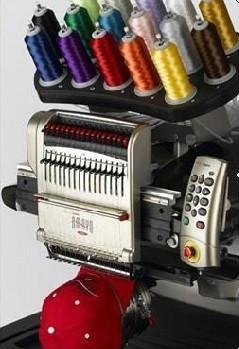 AMAYA
Embroidery Machine-
Represent the most advanced embroidery technology
1.Up to 1500 needles per minute embroidery speed, industry-leading.

2.Patented Acti-Feed automatic delivery line system, ultra-low rate of disconnection to ensure the quality of embroidery.

3.16-color line plate, providing greater design flexibility, the line color backup options to ensure continuity of production.

4.Flexible application methods can be used for finished products and non-finished embroidery.

5.To provide the industry's largest embroidery area of the cap.

6.Laser positioning and recovery-bit systems to ensure that open up faster and more accurate positioning of embroidery, while automatic Aiming box functionality.

7.Piezo Electronic disconnected sensor system to eliminate duplication of embroidery.

8.Simplified system design, 45% less moving parts, increase service life and reduce the use and maintenance costs.

9.Presser foot height adjustable, with thick embroidery, to achieve the best embroidery results.